Breeding and Showing in Australia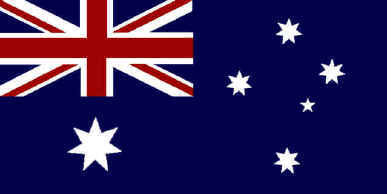 These pages are included in the Nile Abyssinians site to provide general Australian information for overseas but also Australian visitors. We begin with our complex situation regarding governing/registering bodies, of which there are many. Just remember that Australia is a relatively recent (about 100 years) federation of states, and believes in competition, and you can guess what comes next!
Our governing bodies are state-based; each of the six states has at least two competing bodies, and each of the two territories has one. As a general rule, they recognize each other's titles and registrations, with the limitation that if certain breeds, colours or varieties are not accepted by a given association, then they cannot be re-registered with it.
There are two "umbrella" co-ordinating bodies, and each of the individual governing bodies is affiliated with one, but only one, of these. Such fraternal governing bodies often recognize even each other's Challenges, these being adult open class win certificates which are prerequisites for Champion and higher awards. Here now is a picture.
Three of the states also have Aby/Somali breed clubs.
Importing cats to Australia can be quite complex, though we can now import from most countries with just 30 days' quarantine, provided that the right procedures and preparations were undertaken. The requirements vary by country of origin, and can all be obtained from AQIS (Australian Quarantine Inspection Service), which is located within DAFF (the Australian Department of Agriculture, Fisheries and Forestry). Information on cat importation can be found at http://www.daff.gov.au/biosecurity.

Australian Feline Co-ordinating Bodies
Australian Cat Federation (ACF)
Web site http://www.acf.asn.au/
P O Box 331
Port Adelaide BC SA 5015
Phone: 08 8449 5880; e-mail acfinc@chariot.net.au
Co-ordinating Cat Council of Australia (CCCA)
PO Box 5052
Lyneham ACT 2602
Phone 0412 593 864, e-mail lvahland@optusnet.com.au
Web site http://cccofa.asn.au/

Australian State Governing/Registering Councils
For each council, the co-ordinating body affiliation is given in square brackets. International telephone numbers are given; overseas callers should replace the "+" by their international access digits (e.g., 011 in the US); Australian callers should replace the "+61" by 0.
Australian Capital Territory (ACT)

CCI (Capital Cats Inc.) [CCCA]
Secretary
P.O. Box 826, Jamison ACT 2614
Tel. (none given); e-mail secretary@cci.asn.au
Web site http://www.cci.asn.au/
New South Wales (NSW)

NSW CFA (NSW Cat Fanciers Association, Inc.) [CCCA]
Cat Breed Administrator
P.O. Box 379, St Marys NSW 1790
Tel: +61 2 9834 6577; e-mail nswcfa@hotkey.net.au
Web site http://www.nswcfa.asn.au/
TFA of NSW (The Feline Association of NSW, Inc.) [ACF]
P.O. Box 480, Mt Druitt NSW 2770
Tel: +61 458 923 473; e-mail tfansw.office@gmail.com
Web site http://tfansw.com.au/
Northern Territory (NT)

CANT (Cat Association of the Northern Territory ) [ACF]
GPO Box 3870, Darwin, NT 0801
Tel: +61 407 452 947 ; e-mail director@daycaredarwin.com.au
Web site http://www.cant.asn.au
Queensland (QLD)
CQ (Cats Queensland, Inc.) [CCCA]
PO Box 9139, Wilsonton, QLD 4350
Tel. +61 7 4637 0058, e-mail billielo@bigpond.com.au
Web site http://www.catsqld.org.au/
QFA (Queensland Feline Association Inc.) [ACF]
PO Box 1578, Mudgeeraba, QLD 4213
Tel. +61 433 951 013; e-mail secretary@qfeline.com
Web site http://www.qfeline.com/


QICC (Queensland Independent Cat Council Inc.) [ACF]
22-24 Douglas Court, Karalee, QLD 4306
Tel. +61 7 3294 6312 e-mail secretary@qicc.org.au
Web site http://www.qicc.org.au/
FCCQ (Feline Control Council of Queensland, Inc.) [ACF]
2316 Beechmont Road, Beechmont QLD 4211
Tel. +61 7 5533 3218 e-mail secretary@fccqinc.org.au
Web site http://www.fccqinc.org.au/
South Australia (SA)
GCSA (The Governing Council of the Cat Fancy of South Australia) [ACF]
35 Bucknall Rd, Glanville SA 5015
Tel: +61 8 8449 5880, e-mail gccfsa@chariot.net.au
Web site http://users.chariot.net.au/~gccfsa/
FASA (Feline Association of South Australia) [CCCA]
14 Legacy Crescent, Modbury North SA 5092
Tel. (not given), e-mail caldwell48@gmail.com
Web site http://www.felineassociationsa.com/
Tasmania (TAS)
CAT (The Cat Association of Tasmania) [ACF]
262 Macquarie Street, Hobart, TAS. 7000
Tel. +61 3 6223 8341; e-mail lesley.comyn@bigpond.com
Web site http://www.catinc.org.au/
CCCT (Cat Control Council of Tasmania) [CCCA]
27 Roebourne Ave, Hadspen, TAS 7290
Tel. (not given), e-mail contact@ccctas.com
Web site http://www.ccctas.com/
Victoria (VIC)
FCCV (Feline Control Council of Victoria) [CCCA]
3/15 Newcastle Rd, Bayswater VIC 3153
Tel: +61 3 9720 8811; e-mail fccvic@hotkey.net.au
Web site http://www.hotkey.net.au/~fccvic/
GCCFV (Governing Council of the Cat Fancy of Australia and Victoria) [ACF]
PO Box 161, Carnegie VIC 3163
Tel. +61 3 9752 4217; e-mail gccfv@internode.on.net
Web site http://www.cats.org.au/index.html
CVI (Cats Victoria, Inc.) [ACF]
PO Box 6147, Lansell Plaza Bendigo VIC 3555.
Tel. +61 3 9560 3062; e-mail john_trish.newman@bigpond.com
Web site http://www.catsvictoriainc.com.au
Western Australia (WA) [2.5 M]
COAWA (Cat Owners' Association of Western Australia Inc.) [CCCA]
PO Box 135, Claremont WA 6010
Tel. +61 8 9384 2500; e-mail coawa@bigpond.com
Web site http://www.coawa.com/index.html
FCCW (Feline Control Council of Western Australia) [ACF]
PO Box 915, Cannington WA 6107.
Tel. +61 8 9452 2885; e-mail fcc_wa@bigpond.net.au
Web site http://www.fcc-wa.com

Abyssinian Cat Club of Australasia
42 Lincoln Rd, Port Macquarie 2444
Tel: +61 2 6581 1713; e-mail somali@internode.on.net
Web site http://www.abyssinian.org.au/
Club 23
(For Abyssinian and Australian Mist fanciers)
This page was last updated on 03-Jul-13
Home Page Aby Standards Cat Titles